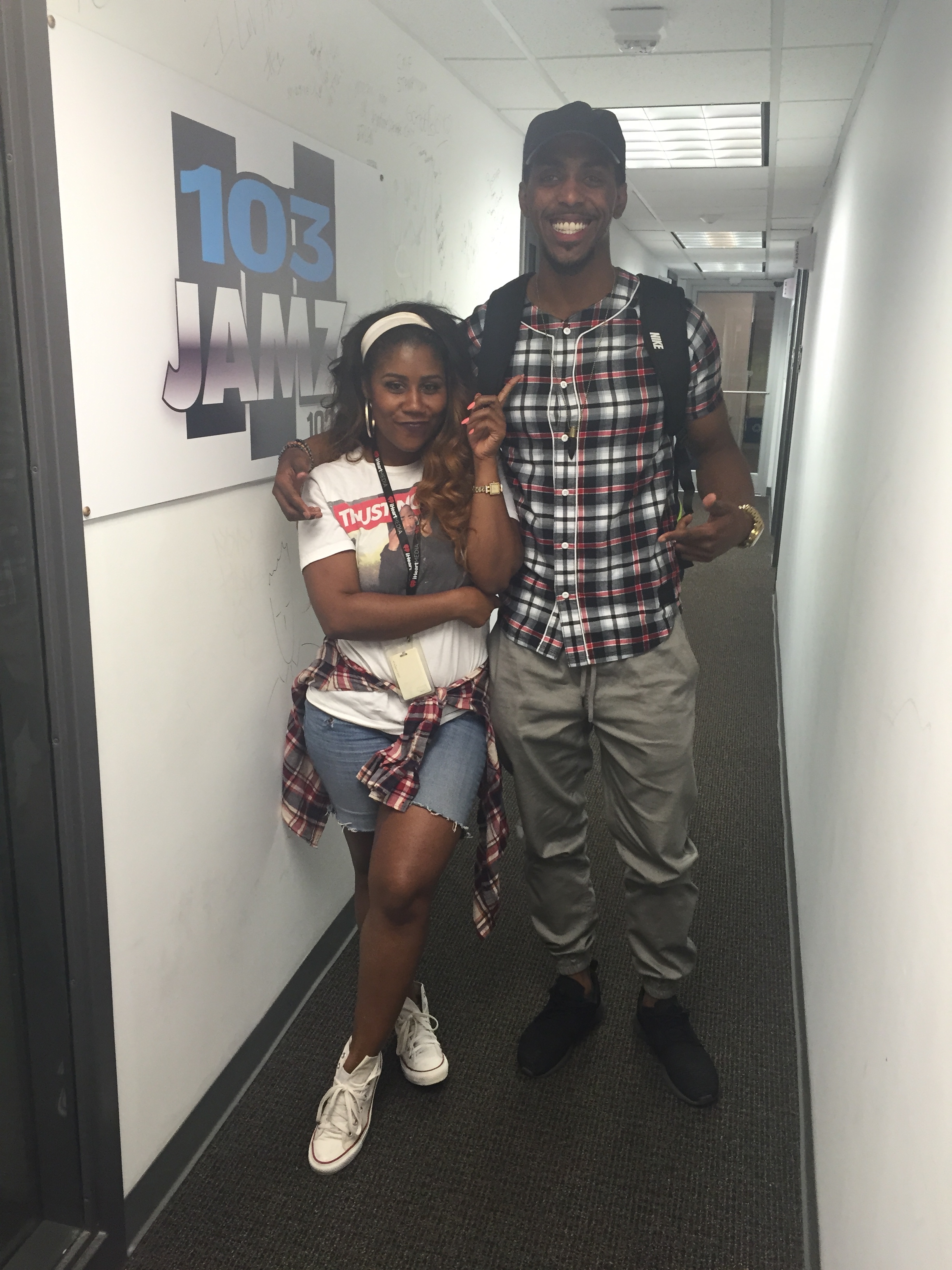 Dominique grew up in Richmond, Va with her mother and two brothers. Even in her earliest memories she remembers, "just always wanting to perform." Having a calling for the spotlight, she admitted that she would sometimes get called out by grade school teachers for being too talkative. "I have always been that entertainer. I used to play Apollo outside and I was the host, I was KiKi Shepard, and I was the contestant too!" Anybody that knew Dominique back then would say she's the same girl that is rocking the airwaves today.
Dominique and I sat down in iHeart Studio in Norfolk, Va. What a perfect setting for an interview as entertaining as this one. Dominique is a Mass Communications graduate of Virginia State University and a member of Alpha Kappa Alpha Sorority. Currently Dom is the On-Air personality for iHeart radio as she leads the #1 midday radio show in Hampton Roads consecutively on the number one urban station in the country, WOWI-103 JAMZ. Dom also entertains crowds throughout the country as a host & social media personality connecting with over forty thousand followers daily. Her website is DominiqueDaDiva.com. Dominique understands the ins & outs of the industry and has the skills to deliver on the big stage. We jovially shine a light on an emerging entertainment star in this week's #ShineHardconversation.
Watch the Interview!
Who did you look up to as a kid?
Dom: Mostly Janet Jackson, Wendy Williams, Beyonce, and my mom of course. Those are my top four women.
How did you get into radio?
Dom: I started interning when I was at Virginia State. Sophomore year I gave the station I was interested in, Richmond 106.5 The Beat, a call and was like "Hey I'm trying to intern! I'm trying to get in." and they were like, "Umm, you're too young." I was really just thinking ahead and then my junior year I got the internship! I was there as much as possible. Interning, but going to meetings even if I heard about the meeting and didn't necessarily need to be there I went anyway. I wanted to show my face and really just treat it like a job. Which was pretty tough being a student and working at a clothing store, DOTS. Shoutout to DOTS! I had some hurdles, but it was just so much fun and so natural to me that I wanted to show that I could be in the mix and hold it down for the team.
What was your Richmond radio experience like?
Dom: It was basically young me trying to find her way. It's not a lot of women in the industry and it wasn't any women in my building that I could really take something from. I was around men and DJ's all the time. I had to realize they're men and I can't manuver how they manuever. I had to find my own lane.
I did get a chance to interview a lot of the celebs that came through Richmond. One of my first big interviews was with Miguel. I saw him a couple weeks ago at the BET Awards and pulled it up on my computer like, "Do you remember this?!" This was before he was even invited to the BET Awards as we were sitting there together talking about his latest album. That was really cool.
What are your roles here at iHeart Radio?
Dom: I've been with iHeart since I was 19. I've been here in Norfolk for three years now. I am mid-days 10-2. I do a couple other things, production and assist with 92.1 the beat, our sister station. I host a lot of community events and parties. I'm doing a Hampton Roads Dancing with the stars for charity, representing iHeart while I do it. I pretty much do any and everything I just love to stay busy. I have no kids, I'm single, I'm just like "Work, work, work" because what else is there to do?
What is your passion and when did you know?
Dom: I've known since I was little, maybe since I was 4 or 5, I had just got a Karaoke machine I recorded a radio show. Whenever I got a microphone I was pretending I was the host of Apollo. It's funny because I didn't realize it then. I would wake up Saturday mornings with this pink skirt that my mom would only let me wear it in the house because it was so short haha, but I had it on every Saturday and I would watch the CMT channel. They would show the older people doing the line dances and I was right there with them. To me, that was a form of entertainment and that was just me doing things that I liked.
When I was in second grade, my teacher reseated the entire classroom because she said I was a distraction and I didn't need to have anyone next to me. So she made the entire class room a square and she seated me in the middle and told my mom. Mom said, "That was the dumbest thing you could have did for my daughter…" Now I'm in the middle of the class, center of attention , teaching the class like "Yesss, Yesss, It is I, We're here. We're gonna learn." So yeah, having a platform on any spectrum was always my passion. Once I got older and found out I can get a degree for talking, Mass Communications talking on TV. I said "That's exactly what this is that I've always been doing."
Who do you look up to for guidance in this industry?
Dom: I look up to the first female PD that I had, Kashawn Powell, I stay in contact with her often. I call her my radio mom. She's has so much experience, been in the business for over 20 years and been in some major markets. On the entertainment side I look up to Wendy Williams because she transitioned from doing radio to doing television. That is exactly what I want to do. I look up to her because however you feel about Wendy Williams, if she's saying something you probably wanna hear it. I respect anyone in this industry that has the power captivate an audience and have people to stop in listen. Using the platform to speak for their peers, saying the things that nobody else wants to say. "Ill be that person and I'll take that hit."
How was your experience at the 2015 BET Awards?!
Dom: It was so much fun. This was my second time going. First time I just got a taste of it by going to the show, this time I had my credentials, OK. I had my badge ready, I had my laptop, so I was in there moving and shaking. It was fun being in the media room. There's not a lot of conferences where radio jocks get to come together in camaraderie and say, "Hey!", so that aspect was fun. A lot of stars came through for interviews and social media snaps. I was totally there for it.
What inspires you to Succeed?
Dom: I think it's my mom. I realize I always saw her with a lot of different jobs just making it happen. I thought naturally that that's just what women are supposed to do. She was very strict on me because she had me young at seventeen. In a way now, I feel like we've watched each other grow if that makes sense. She always had a plan for me and wanted me to do things that she didn't do. It feels good so far that I've been able to do achieve that.
Whats been the biggest challenge in your career thus far?
Dom: I think the biggest challenge for me has been it being a lack of women in radio. When I started I was learning a lot but I was learning it from men, so I kind of had to find my own niche and stay in my lane. I had to figured out what works for me. I realize people think I'm funny so I told myself don't hold back and just be yourself. There are some double standards from men to women and that is why I say exactly what I wanna say. Stay authentic.
What is the #1 factor behind your success?
Dom: Staying focused and grounded. Like I said my mom is just a really big influence on me and she's always been in my corner and been in my ear. They keep me humble. I have my circle of friends. I have like 5 friends and they all live in different states, so if I'm traveling I'm probably going to see them. I wish there could be a TV show about us. And I know every girls says this about her group of friends, but they're alllll doing big things in different places. It's benefited me to surround myself with people that can push me. I just love it when people are working toward something.
What advice do you have for young people trying to break into radio?
Dom: I make it my business to get back to VSU often and speak to the students there. Shoutout to Dr. Johnson at VSU in the Mass Comm Department. I always tell students to get experience, Intern! A lot of times you'll go to college for four years and here you are with this nice beautiful degree and you've never stepped foot in a station or that place of business. Make sure you apply for that internship and once you get it, milk it. Treat it like your job, you treat it like your baby. It's going to be people that want what you have but you have to know, "I want it the most." For radio, learn the board and get comfortable on the mic.
Johnny: Dom, your energy is golden! The future is so bright! Keep shining. @ShineHardFamily
Interested in learning more or connecting with Dominique?
Twitter/Instagram: @DominiqueDaDavia
Email: DominiqueDaDiva@gmail.com