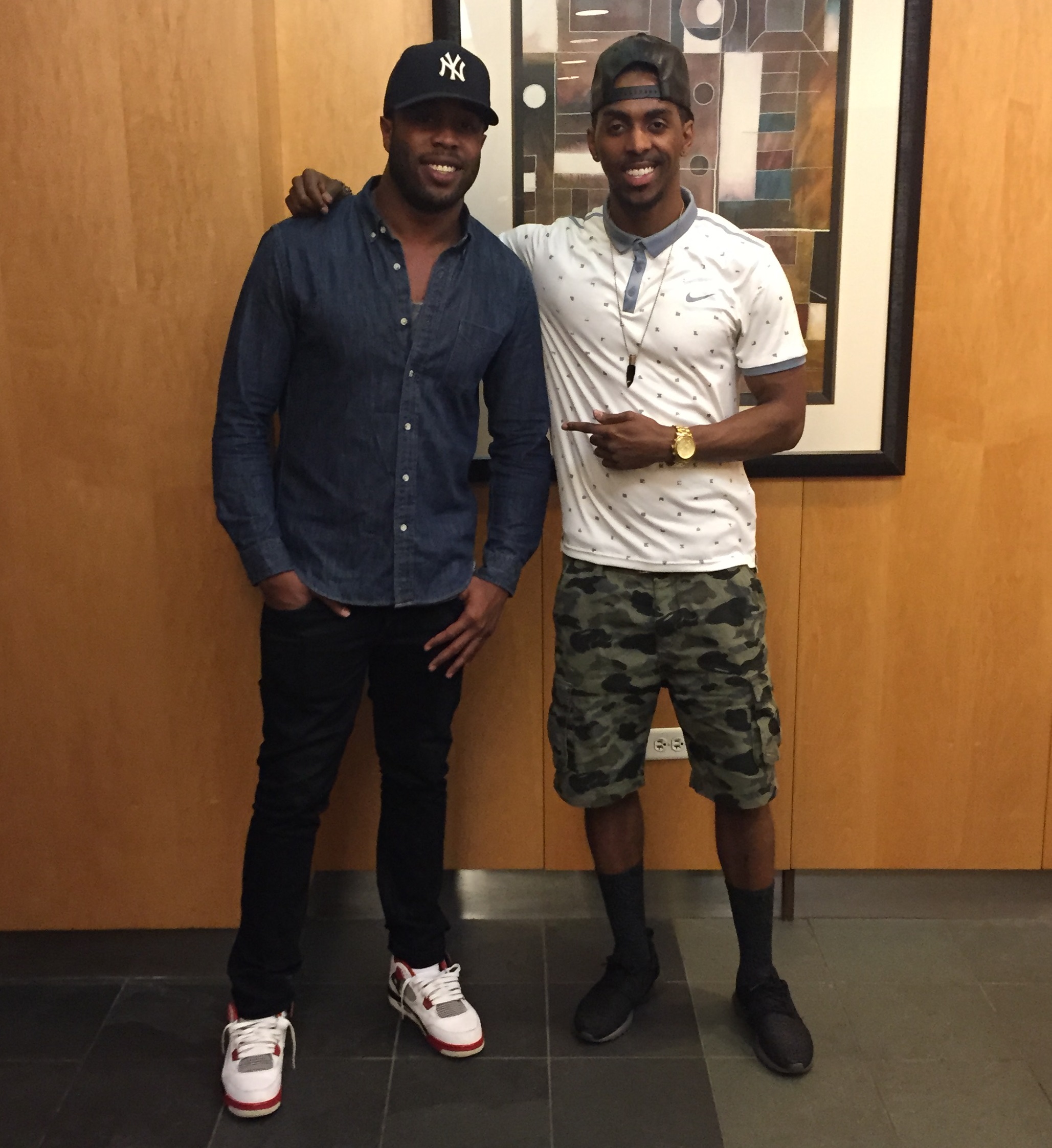 Joseph grew up in a small town right outside St. Louis. on the Illinois side. Bellville, East St. Louis area. Joseph grew up in a male dominated household with three brothers, two younger brothers and one older. His parents played a huge role in his upbringing, which has certainly accelerated his maturity and strengthened his leadership skills. When I mention youth sports, Joe said, "Yeah man, growing up I played football, basketball and a little baseball too. It was cool, man. Had a lot of friends and a lot of great experiences." Always laid back and confident, Joe's journey is evidence that he is playing the game of life to win.
Joseph and I caught up in the conference room of the office on the west side of Chicago, Illinois. It was his last week in town before relocating east to Atlanta. Joe is a graduate of Hampton University's 5-year MBA program and also earned his Juris Doctorate from Loyola University in Chicago. Joe is the CEO of his self-started company, Agility Sports, and he possesses mogul-like ambition. He's been recognized as a phenom within the industry as his first two clients were selected in the 2nd round of the NFL draft. Joe has been featured in Forbes Magazine twice in two years, but seems to focus more on his goals and growing with his clients. He humbly confided, "By the time I retire, I see agility being one of the top agencies in the industry. Start with football and eventually expand into other sports." I present a young "get-it-done" professional in this week's #ShineHard Conversation.
Watch the Interview!
Who did you look up to as a kid?
Joseph: My father was a big role model in my life. My father's a lawyer and he's got his own law firm. Growing up I saw him put in a lot of hard work, so I always knew what it was going to take. Ya know, he was kind of strict on us to make sure we stayed on the right path. Definitely out of anybody, my Dad is my biggest role model.
What is your passion and when did you know?
Joseph: Right now, no doubt about it, being sports agent. Helping these guys transition from college to the pros is my passion. I didn't know really until like two years ago. This kind of just happened. I say this to people all the time, it almost just fell into my lap. I mean, my first client was a close friend of mine.
How did you offically become an agent?
Joseph: My first year of law school I ended up working for the NFL in football operations with the Arizona Cardinals. Then that next summer they had me on for rehire, but I knew my buddy was getting ready to go to the league. Kony Ealy, he was my first client. He ended up being a second round pick for the Carolina Panthers.
Christmas break after I had worked for the Cardinals, it was the end of the college football season and Kony pretty much made the decision then whether or not he was coming back to school or declaring. He decided to stay in school but at that point he told me I could be his agent. So I went through the agent certification process.
What's the Agent Certification process like?
Joseph: They do it once a year. You turn in your application in January. You take a test in July and you're certified by October. I went into the situation knowing that I had my first client. I looked at it like being at the right place at the right time with the right credentials and good things just happened.
How was Law School?
Joseph: I've been out of grad school for a year now. May 2014 from the Loyola University-Chicago. I moved out here straight out of Hampton when I finished my MBA and I started law school. This is really like my first full year out of school in my life!
How did Agility Sports come about?
Joseph: I started Agility because I really didn't want to work for anyone. Having the freedom to do what you want to do, you can't really beat that. I did research on a lot of different agents and how they developed their careers. In doing my research, I saw that many of the top agents began very similarly to how I have. Started out with that first client whose a friend or close to the family and really used that platform to sky rocket their career. Trials and tribulations of course, it's been a journey.
Who are your mentors? Who do you look to for guidance in this business?
Joseph: With Kony being my first client, he and I both knew that it would be a good situation for me to partner with somebody to learn the ropes the first time around. That last college football season, any of the agents that contacted him, he gave them my number. I screened the agents and we narrowed it down to four guys. We did final interviews and from there we chose a partner, Andy Ross. I have a partnership with that guy solely on Kony's contract. I actually just spoke with him today. We have a very good relationship, it's more like a mentorship role. I can call him with any questions I have. Other than that it's a very competitive industry, so you really don't talk to the competitors.
Kony Ealy, Marcus Golden, Travis Manning, In the process of recruiting and signing players, how do you create buy-in and build trust with athletes?
Joseph: I can't put all my secrets out there, but it's a lot to do with relationship building. I like to talk to people and I'm good at building relationships. I think that will take me far. Out of the competition there aren't too many guys like me. When I say, "like me," the majority of the competition are older Caucasian men. Me sitting down with the family, most of the time they don't even know I'm an agent or a lawyer! Even with Marcus, his mother mentioned that she sees me as kind of like a role model, being a young black man. I think people will see that and I will get my opportunities.
What's been your biggest challenge as a sports agent?
Joseph: Just being independent for sure. They call it a start-up company for a reason. You have to build from the ground up. We're out here competing with companies that have been around forever. I've been pretty successful, but it's still a challenge. I enjoy it. It's not too many agents in the industry that are sitting down with guys and look like me with similar qualifications and have done what I've been able to do over the past few years, so I like my chances. I don't have to sign everybody. As long as I get a few guys a year I'm good.
Despite that, what inspires you to succeed?
Joseph: What inspires me is really the relationship with my clients and really being able to cultivate those. I talk to my guys about anything. Business, girlfriends, not even including the football related stuff. I want my agency to be a family type of environment where my clients have relationships with each other. There are things they can learn from each other that I don't know anything about because I don't play professional football. That's really what I'm building here and I'm excited about it.
In your opinion, what qualities must someone possess to be a successful Sports Agent?
Joseph: I would say you gotta be a hard worker. You have to be diligent. You really can't take things to heart because it's a tricky business. You have to be focused. It's not as "cool" as it looks sometimes. The 2am, 3am phone calls. The movies, at dinner. I don't think everyone understands what it really entails.
At this point in your career, what accomplishment are you most proud of?
Joseph: Honestly, that's a hard question to answer. I really don't know. Sometimes it really doesn't even feel real. Just how things have happened and how fast they've happened. But if I had to say, it would probably be being in Forbes. Been featured two times in the past two years. Out of everything, but that's a hard question to answer.
What is the #1 Factor behind your success?
Joseph: I don't believe anyone will out work me.
Johnny: Joe, keep shining man! Glad to have you as a member of the @ShineHardFamily
Interested in learning more or connecting with Joseph?
Twitter/Instagram: @JClayborne02
Email: JClayborne02@gmail.com